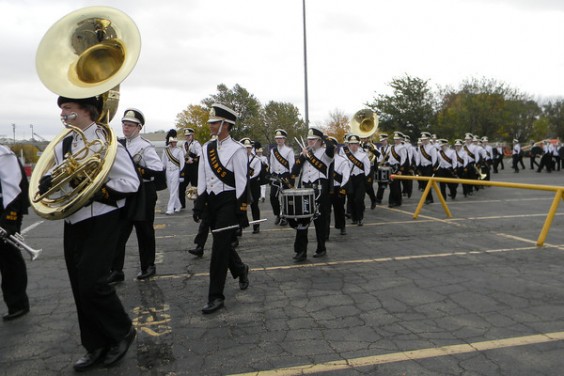 From the Shawnee Mission South District Stadium to Bill Snyder Family Stadium, the Shawnee Mission West Pride Marching Band and Dance team headed to K-State to compete in the Central States Marching Festival on Saturday, October 13, 2012.

With a 6am call time, that was one way most high school students would not like to start a Saturday. The marching band loaded the coach buses and enjoyed a quiet two hour bus ride to Manhattan, KS. As the band arrived at about 9am at Memorial Stadium, they were greeted by two familiar faces, Billy Chew and Josh Peterson. These two current members of the K-State Marching Band are former SMW marching band students, and they were the band's guide for the day. They led the band to the clinic that morning with the Assistant Director of Bands, Mr. Donald Linn. With his enthusiasm and helpful hints, the students learned what they needed to do to make the show an even greater success than it was when they marched it before.

With the clinic over with, the band headed to Bill Snyder Family Stadium to eat a little lunch and then prepare to march their halftime show for the judges. Many kids thought that it would be a piece of cake to march this show but what they didn't realize is the fact that Shawnee Mission South District Stadium is not as big as the one as K-State. As they marched on, they could hear the sound of air grams over the loud speaker system as well as the announcer telling the crowd about their show and them as a band.

As the show was about to begin, everything fell silent. That deathly silence definitely brings out your nerves. The show went off without a hitch. As they finished the end of Malaguena, the crowd applauded and headed to the critique room where the students got to see their show just minutes after they finished the last roll step off the field. With many good comments as well as suggestions on things that needed improvement, the band felt confident with their show.

Story continues below advertisement

With homecoming that night, the band had to hustle to get back to the school so students were going to attend the dance wouldn't miss it. Before the buses headed back to Shawnee Mission West, Mr. Bill Thomas, Director of Bands at SMW, announced to each bus full of students that they had received straight 1's across the judging scoreboard. The band was 1 of only 4 marching bands to receive that honor.

For more photos from the competition as well as other marching band photos, go to:
http://bandaideswest.smugmug.com/Marching-Band/2012-K-State-Marching-Fest