Ashton Brunmeier's Candlelight Vigil: Live Blog
[nggallery id=15]
Photos: Dylan Crow
An intense reaction followed the death of Ashton Brunmeier, junior. After three years of fighting cancer, Brunmeier lost his life, and West definitely had a reply.
"#ATB" became a trending topic plastered on almost every student's tweets. Already, t-shirts were organized with printed sayings like "Fight Like ATB". Even Assistant Principal Warren came on the intercom to encourage students to continue their support for the Brunmeier family and to continue using the #ATB trending topic.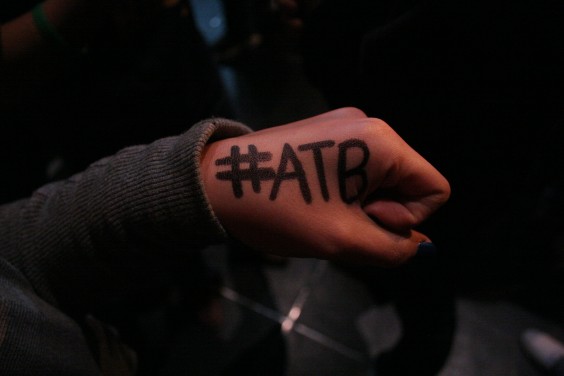 Four days after Brunmeier's death, a candlelight vigil was formed. Students attended this event in honor of Brunmeier's life. Below is a live series of events, updated by the minute.
LIVE BLOG:
7:00 – Community members gather into the auditorium for Brunmeier's candle light vigil. Keiko Suzuki and Brandy Sites, juniors, pass out candles to people coming in the auditorium.
"I'm volunterring. My brother is Ashton's best friend. [The turnout] is fantastic. We've come together," Sites said.
7:10 – T-shirts are sold in the hall by girls basketball team in honor of Brunmeier.
"A bunch of basketball girls wanted to make something for Ashton, so we all thought t-shirts. We decided to sell them and give the money to Ashton's family," Emily Franchett, sophomore, said.
7:27 – The crowd settles in, equipped with candles.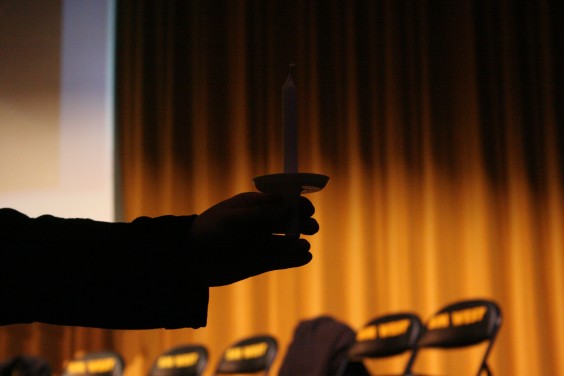 7:34 – Brunmeier's close friends walk out onstage, holding hands, wearing matching t-shirts that say "ATB Fights Back". Kyle Stonestreet, junior, thanks everyone for coming.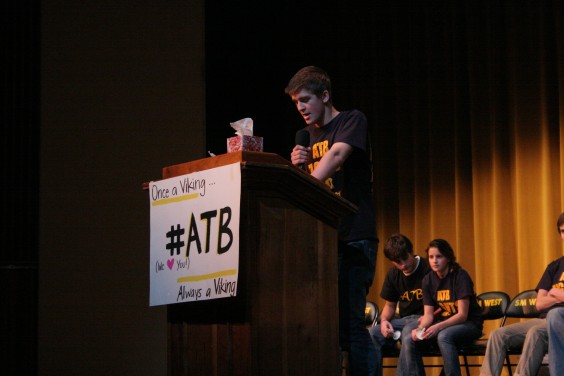 7:38 – In this idle time, students chat and hug each other onstage.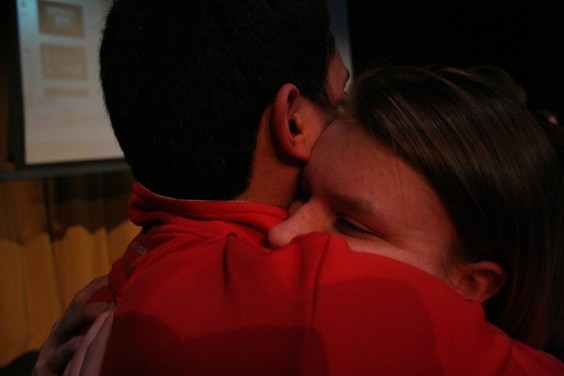 7:51  – The crowd chants "ATB" in unison as Brunmeier's family walks in.
7:53 – Robert Rice, junior and friend of Brunmeier, requests a moment of silence.
7:54 – A slideshow video of Brunmeier is played in his honor.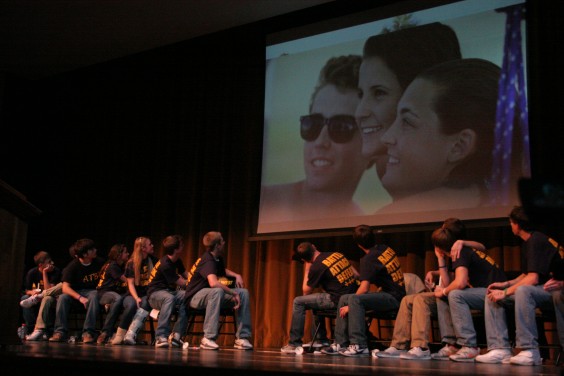 8:06 – Rice talks about his freshman year basketball season with Brunmeier when Brunmeier was diagnosed with cancer. Brunmeier wasn't allowed to play, according to Rice, but the coaches let him go in during the last twenty seconds of the game and Ashton scored.
"It meant a lot to Ashton. He went in there and sunk it," Rice said.
Rice then discussed how his friends shaved their heads for Brunmeier.
"The kid meant a lot to a bunch of people. The strongest kid I know is looking up above us," Rice said.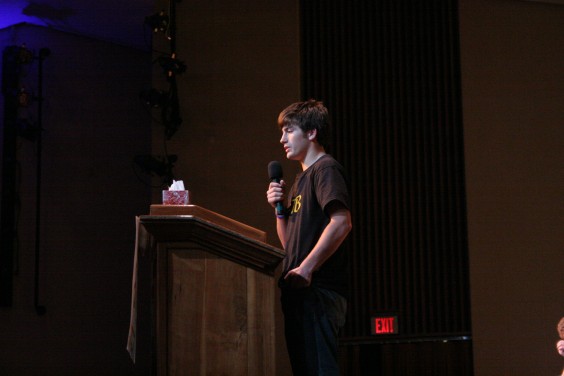 8:15 – Kevin Cline, junior, talks about a summer memory with Brunmeier. He then shares a poem he wrote in English about Brunmeier.
"I love you brother. We all do. I can't wait to see you at those shining gates," Cline said.
8:17 – Justin Fetzer, sophomore, shares a poem he wrote about Brunmeier titled "Family Comes Together".
"We love you Ashton. We're all your family, and we'll always be here," Fetzer said.
8:20 – Cole Bryant, junior, brings a round of applause for the Brunmeier family and shares some memories about Brunmeier.
"When he was lying in his bed, and I was holding his hand, it was heartbreaking," Bryant said about when Brunmeier passed.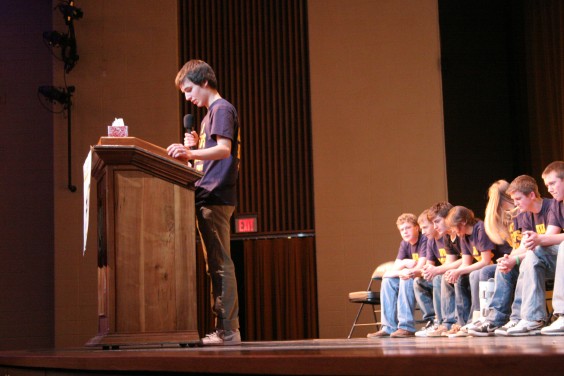 8:24 – Matt Reagan, Jacob Dodds, Katie Conner, Conner King and Max Prince, juniors, share their memories with Brunmeier and friends.
"His true friends knew he was crazy, cocky and competitive. He's one of a kind," Conner said. "Although I don't agree with God's decision to take you so soon, he has a plan."
"When I heard he [Brunmeier] had cancer, I honestly wasn't worried. I thought he'd beat its ass like everything else," Conner said. "He was my brother. I'll never forget him."
8:40 – Bryce Taylor, Seve Sites and Matt Chatelain, juniors, share their memories with Brunmeier.
"He's partying hard in heaven, where we'll all be reunited with him," Taylor said.
"I'm going to miss him like crazy. There's nothing harder to do than lose a best friend and a brother. We've just gone down different paths right now," Sites said. "I'm very blessed to call him my best friend."
Chatelain read something Brunmeier wrote in Writer's Workshop class about how he wouldn't let the cancer beat him.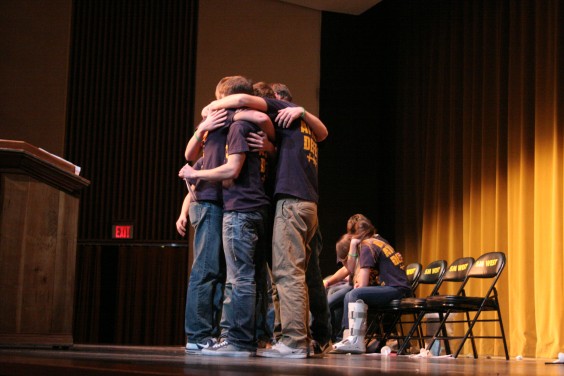 8:52 – Stonestreet shares a story about Brunmeier.
"The way I take it, Ashton took a different path," Stonestreet said.
8:56 – Paige Parker, sophomore and Brunmeier's girlfriend, speaks about Brunmeier's and her relationship and reads a poem about her.
"She's the tune in my head I never want out," Brunmeier once wrote in Writer's Workshop class about Parker.
Parker speaks about the necklace Brunmeier had given her just before his passing.
"Ashton may be gone now, but I can't wait to see him in heaven. Ashton, I love you," Parker said.
9:02 – Jack Jeronimous, junior, shares his memories of playing basketball with Brunmeier.
"He didn't get beat by cancer. He got tired of kicking cancer's ass and went to heaven," Jeronimous said. "I don't know what kind of guy I would be if God didn't send him to me."
9:06 – Parker invites everyone to light their candles.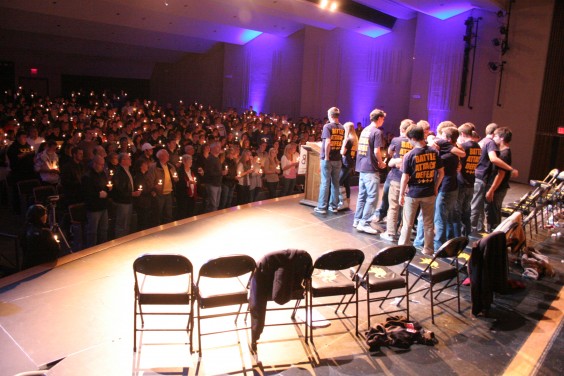 9:08 – Brunmeier's family thanks everyone for supporting Brunmeier and treating him normally.
"He was an inspiration to all of us," Julie Brunmeier, Brunmeier's mother said. "His memory will live on forever in our hearts."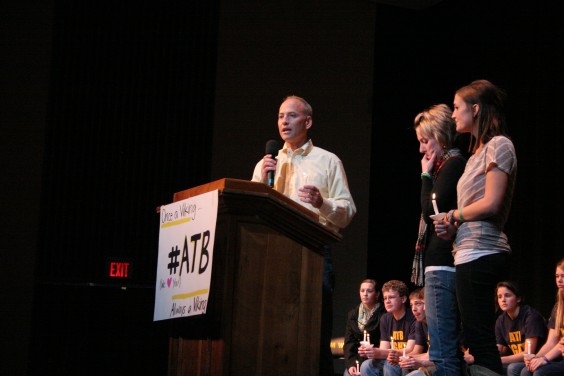 9:11 – Parker hands off a present Brunmeier had made on Tuesday in ceramics class to the Brunmeier family.
"He is a true hero in my eyes," Todd Brunmeier, Brunmeier's father said.
[soundcloud url="http://api.soundcloud.com/tracks/30046241″]
Brunmeier's parents speak about the support from the West community.
Afterwards, everyone stands, holds their candles high and chant "ATB".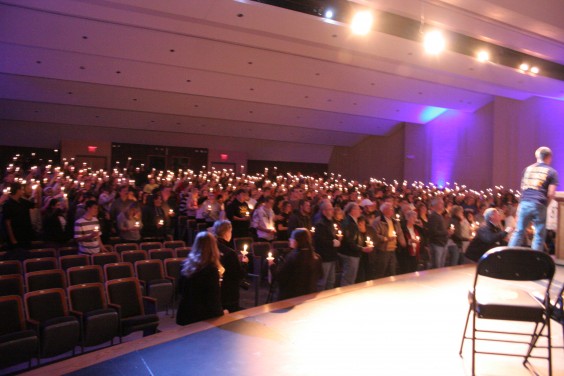 9:17 – Jeronimous thanks everyone for coming and the crowd blows out their candles.
[soundcloud url="http://api.soundcloud.com/tracks/30045661″]
Students chant 'ATB' at the end of the vigil.