Concert Review: Jack's Mannequin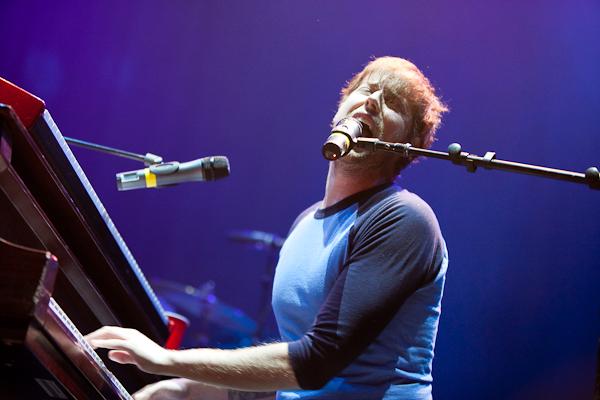 Anyone who was lucky enough to find him or herself at the Beaumont Club on January 20, was in for an absolute treat. As part of their 2012 tour in support of their new album, People and Things, California-based rock band Jack's Mannequin played Friday night, accompanied by Seattle based soul artist Allen Stone and Jukebox the Ghost, a pop rock trio hailing from Washington D.C.
Allen Stone opened up the concert with long, West Coast hair, a funky blue sweater and a blast of energy. Combining a stellar voice with great performing abilities, Stone loosened up the audience with some of his originals, including "Sleep," "Celebrate Tonight," "Satisfaction," and "Unaware." This Seattle-based musician is definitely worth checking out.
Next came Jukebox the Ghost. After dealing with some faulty equipment and a frustrating sound check, the band took off with their poppy, piano-based sound. Crazy piano riffs, funky synth sounds, complimentary guitar, and steady drum beats defined these three as they jammed their way through their set list. The crowd clapped along as the band performed some of their singles including: "Schizophrenia," "Empire," and "So Let Us Create." If you're looking for spacey, piano rock then these guys are right up your alley.
Nothing compares, however, to when Andrew McMahon, the frontman for Jack's Mannequin, walked out on stage to begin his setlist. The crowd literally exploded. As an avid fan, along with planting myself in the third of fourth row, I joined along with the entire audience as we screamed along to every single song that McMahon banged out on his Baldwin brand grand piano. The atmosphere was electric. The audience couldn't rip their attention from McMahon as he flashed his always-impressive Paul Bunyan beard, walked out into the crowd, and stomped on his piano keys with his feet. The concert was so crazy that a couple even became engaged as McMahon sang "No Man Is An Island," one of the b-sides from his latest albums.
There is no denying that Andrew McMahon and the rest of his band put on a fantastic show Friday night. As expected, McMahon played some of his hits, including "Dark Blue," "My Racing Thoughts," and "Swim." But some of the brilliance of the concert came with the words of some of his not-so-popular songs, along with the passion and enthusiasm of every fan who came out to see him perform. The energy was uncontainable and provided for an absolutely incredible experience. I know that, without a doubt, next time Jack's Mannequin rolls into town I will make sure that I am the owner of a ticket.
Rating: 4.5 / 5 stars